Christmas immediately brings to mind cosiness and good food. Of course, it is a treat to do this at a beautifully decorated table. Want to know how? Then read on!
Now that the whole house is decorated and the Christmas tree looks beautiful, one thing is missing. The table, of course. It is especially nice when guests arrive that your table looks its very best.
This year, we have three new sparkling combinations: Bohemian Spice, Wild Glam and Midnight Chic. Today, we take you on a journey to create an original table setting with these garlands and baubles.
The warm tones of Bohemian Spice
One of the new combinations is Bohemian Spice, which has many warm colours and fits perfectly with red, brown and pink shades in the house. The light chain you see in the picture has 35 lights, if you have a larger table you can choose to have 50 lights. We also have options for shorter light garlands.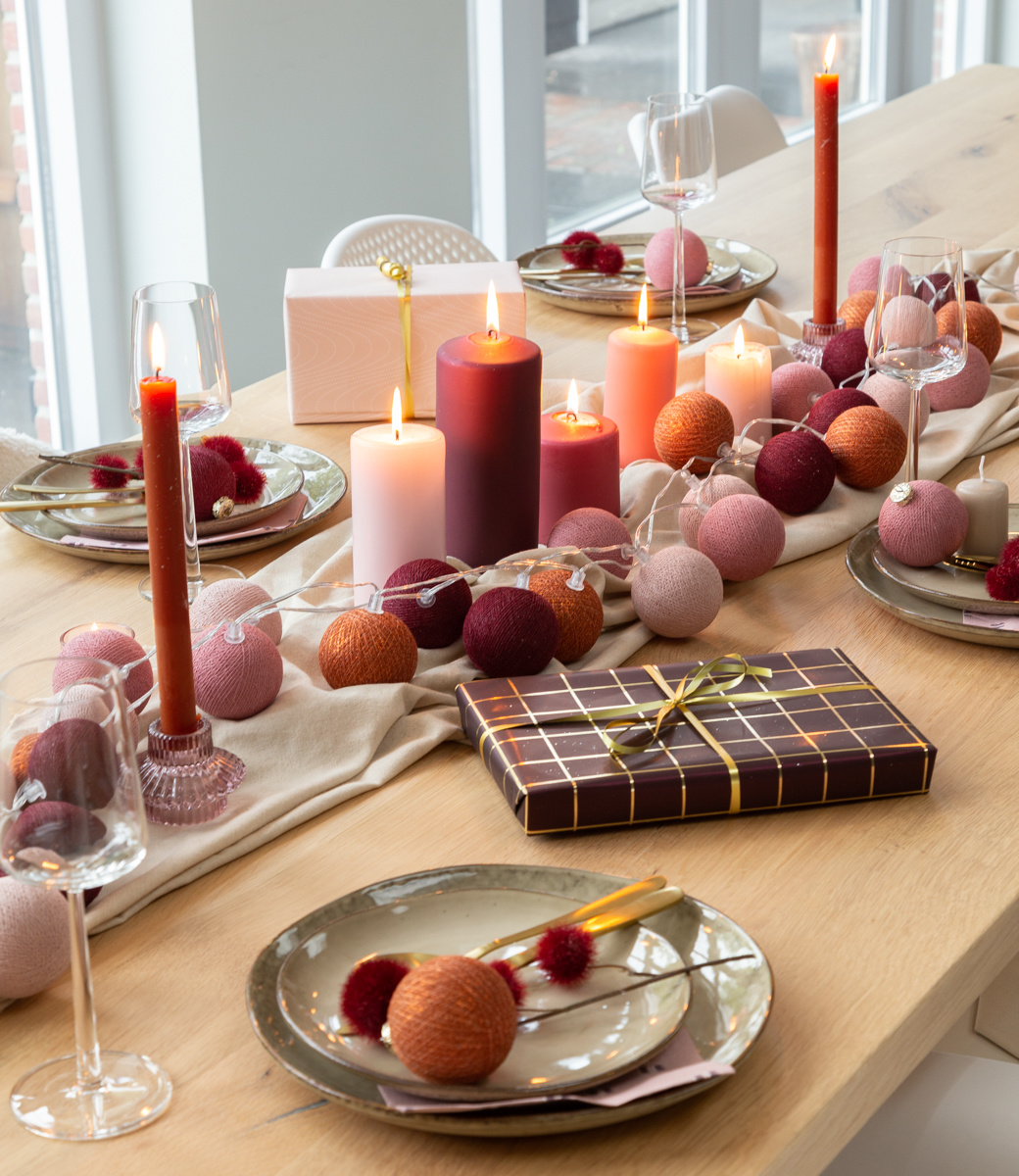 Lay down a nice table runner to make the basis of the table setting. Then you can place the garland of lights over it. Then choose elements with the same colours, such as candles, tea-light holders and go for different sizes. This way you keep your table a bit playful and you create depth on your table. For the tableware, we chose a greyish colour, so that this also matches the table runner. You can also put some decorations on the plates to really make it complete. And tadà, your table is finished. Super original and very easy to do yourself.
Small tip: put our Christmas cotton balls on the plates, they are also available in the same colours.
A green Christmas
Wild Glam is also a new combination this year, with its green and gold tones it perfectly matches the Christmas tree. Our Christmas cotton balls are used for the table setting. These are available in packs of 4, 8 or 12.
Here we have also chosen to first lay down a tablecloth, in a grey shade as a good background for the rest of the decoration. To keep things quiet, a few candles were placed on the table with small paper Christmas trees. The bottles were placed decoratively on the table, which is very easy to recreate at home. All you have to do is remove the label from the wine bottle. You can even choose to put a long candle in it.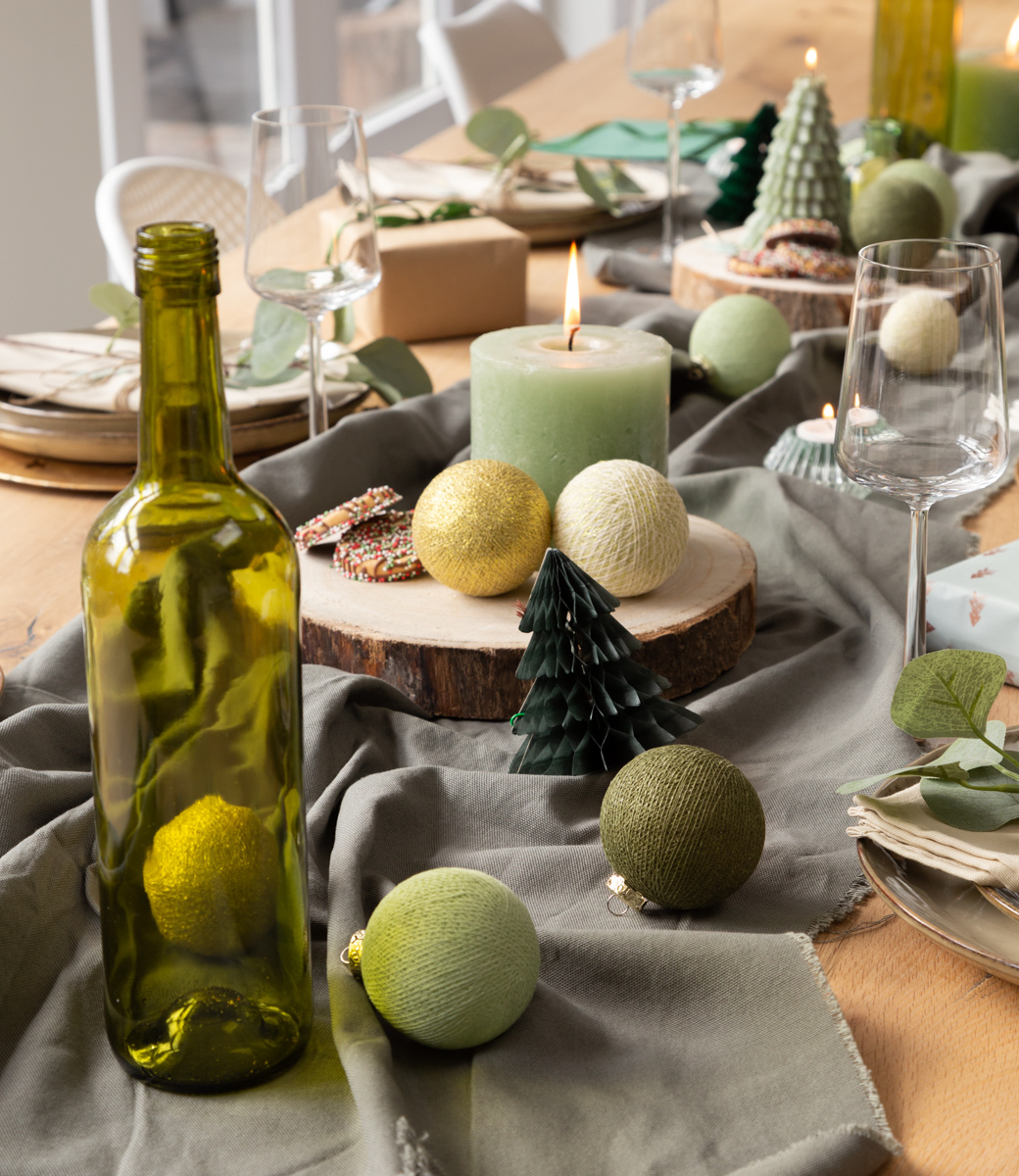 Sparkle and shine it's Christmas time
We have arrived at our last combination, which is Midnight Chic. For this table setting, we have chosen a traditional table setting with a twist. A tablecloth with a runner on top of it, white plates with golden under plates and finally napkins with cute matching napkin rings.
Lay the garland of lights over the table runner. By adding gold and white accessories, your table is complete. The only thing left to do is to light the candles. Now you have a chic table that is just a little bit different from what you are used to.
Of course, you can do many more things with our string of lights and baubles. These were a couple of examples on how you can style the combinations this year. If you have created a table setting with one of our combinations this year, please share it with us.
We are always curious how you style our products. That way, we can get inspiration from each other.
Do not forget to take a look at our socials, because we regularly post pictures of our products there. We also have an inspiration page, where you can see a lot more of all the combinations!