Brrr... cold days! High time to make your home warm and cozy. In this blog we will take you through our tips & tricks so that making your home cozy should be a piece of cake!
String Lights
The days are getting colder and therefore it's great to be at home with your family or friends: this cold time is really not made for spending time alone! Because of the corona measures it was of course a bit more difficult to get together with several people, but now fortunately a lot more is possible. Tips for spending a fun evening together with your family or friends include movie nights or marathons, playing games, cooking or making snacks together, making cocktails together or just snuggling under a warm blanket on the couch chatting. And not to forget: for atmospheric decoration in the house, our ball garland comes in very handy!
Garland
Of course, in these strange times we are at home much more often anyway and therefore it is wonderful to make your home as cozy and warm as possible. If your house is nice and inviting, it makes you feel happy every time you come home. Because it is cold outside, it is recommended to use warm colors indoors such as wood, red and earth tones. The cotton balls garland winter combinations Marrakech, Raw, Teddy and Wanderlust are the perfect addition to your interior during this cold time:
Marrakesh is a color explosion that radiates warmth and coziness; this light string with balls fits very nicely in a warm home with red tones, beige or wood. The cotton balls lighting is instantly striking and is the perfect accessory to warm up the room when it is so cold outside.
Raw is a cool string light that fits into a somewhat tighter interior with black accents. The mix of black and anthracite with beige and brown cotton balls creates a fun combination that gives a striking touch to the room.
Wanderlust is, just like Raw, a tough and hard combination of balls with lights in shades of brown, beige and khaki. Because of the colors, the cotton balls garland matches nicely with plants and with brown, beige and green accessories.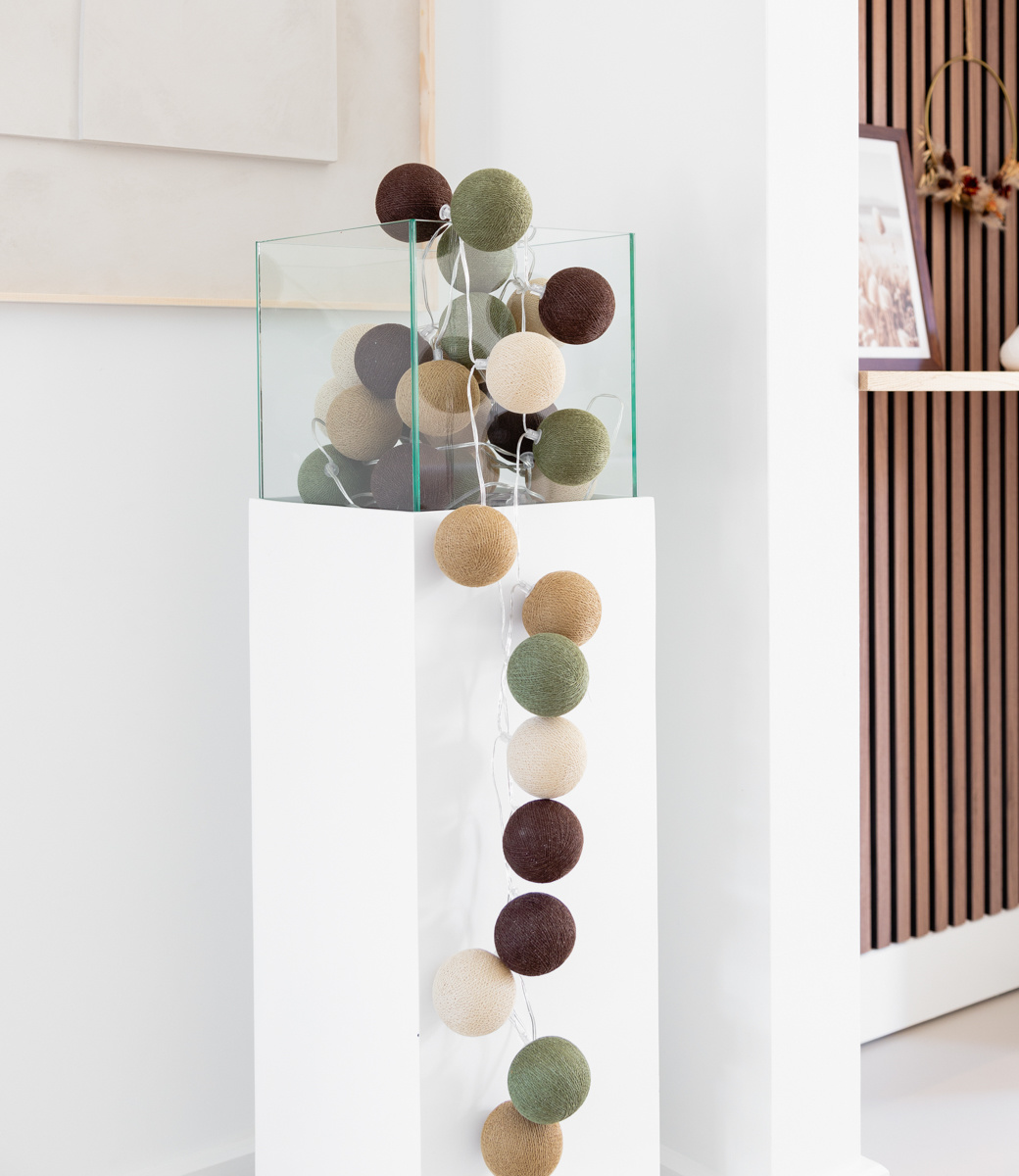 Teddy is a warm combination of earth tones and therefore fits beautifully with a light, beige or wooden interior. The cotton balls light cord radiates tranquility and is also super fun in, for example, the children's room.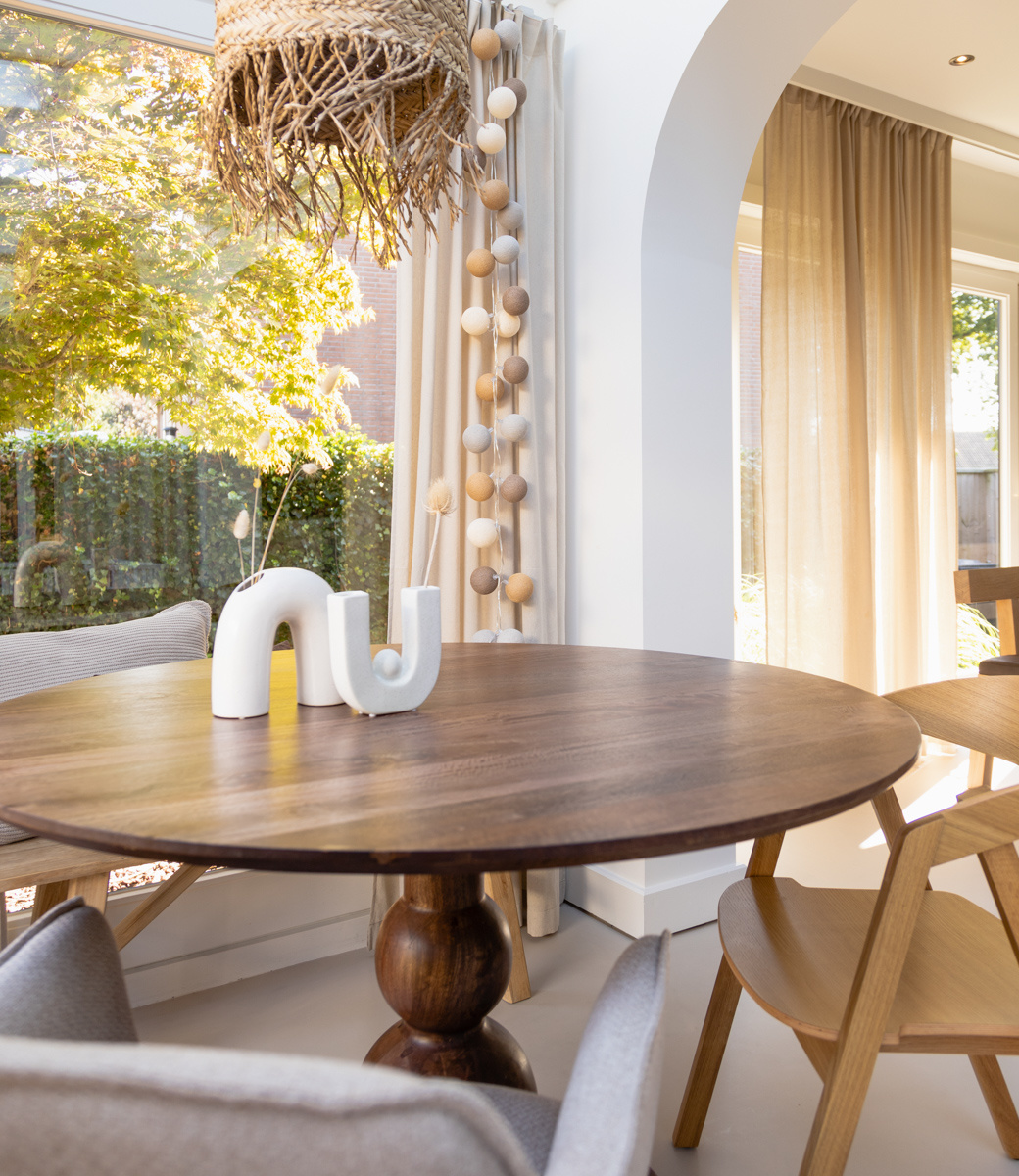 A cotton ball garland in the home is very cool and if your perfect combination is not there, you can always look between our other light garlands or easily create one yourself in our Mix & Match tool!
Then a personal favorite: if there is something in the house that bothers you or if you just feel like changing something in the interior, do it! Move the furniture around or paint the wall a different color and give your home a completely different look. The fun part is; you can change the cotton ball garland with it! On our website you can order separate cotton balls and you can choose from more than 60 colors. By changing one, some or all of the colors of your garland, you will have a completely new cotton ball light garland!
You can also buy a new accessory for each room; take a look at our home accessories for some nice eye catchers like a book lamp or a kraft paper roller to instantly upgrade the atmosphere of the house. A product like the book lamp gives the finishing touch to a closet, coffee table or TV cabinet.
I think we are cozy enough at home now, see you in Summer!