Introducing: Danielle van der Reijden, on Instagram as @ellefotografie is Lifestyle photographer & blogger on her website www.elleinterieur.nl
Only 16 days to go and then we are all sitting around the Christmas table. For many, it is a great party and knows months in advance what they are going to cook and how they want to decorate the Christmas table, but there are still plenty who have no idea how to handle it, but with the tips below the Christmas table 2019 certainly a success!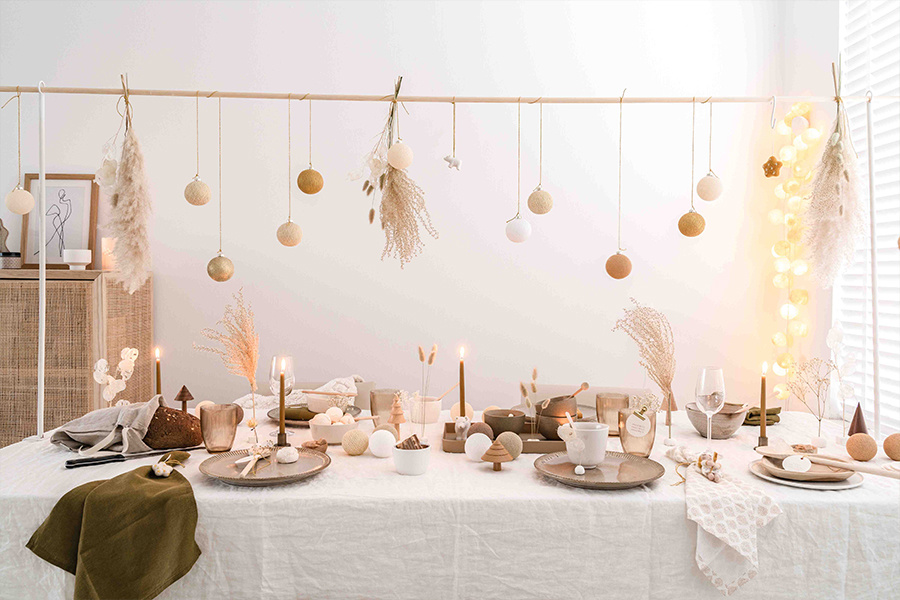 Use of Color
Think in advance which colors you want to use at the Christmas table, choose a piece or three. It became clear to me fairly quickly, because I wanted simplicity with basic colors. That became off-white, beige and a little bit of gold for the ultimate Christmas feeling. At the table clamp, I chose the ChristmasGold mix and the Touch of Gold van Cotton Balls. Super funny that these Cotton balls are now also available in a Christmas ball version.
In addition, I have selected a number of loose balls, which I have placed here and there on the table. The tablecloth in the color Ivory is from Magic Linen, just like the linen napkins in the color Olive Green. The tableware is from Bloomingville and the beige glasses I bought at Zara Home. Fortunately at one of my favorite stores, Dille and Kamille, they also had some nice Christmas items made of gold.
This year there is a huge rise in dried flowers, which could not be missed at the Christmas table. Of course, I also chose them in basic colors.
Vary in height
We recently went from a round dining table to a rectangular one, so I could use my table clamp again this year. Super fun, because you can easily vary in height. I attached the colored Cotton Balls with gold-colored rope. Just like the tufts with dried flowers. Of course, you can also vary in heights without a table clamp.
For example, put down some high candlesticks, interspersed with lower tea lights. It is also super fun to bring variation in height with dried flowers in clay or with fresh flowers in vases.
But also think about your crockery. Don't just put a plate down, but put a bowl on top of it or put some bowls or bowls stacked on top of each other.
Table setting
Do not use the same table setting for every guest that comes. Unless you like a traditional table :)
On the contrary, I like to do something different for everyone and you can do this very easily by hanging a name card on a mug at one, attaching a napkin with a beautiful Christmas bauble to it, putting a dry flower on the plate, to submit a sweet personal note. Everything is super fun and can be done at Christmas. If you find everything a bit too warm in color, take a look at my blog with last year's Christmas table with fresh white and green.
If you have all this done, then I am sure that nothing can go wrong. The only thing that is missing is the delicious food and nice company and the latter is, of course, the very most important thing for Christmas!
Enjoy this Christmas again! xoxo - Danielle
This blog is also published on: https://www.elleinterieur.nl/kersttafel-2019/ (In Dutch, translated by Cotton Ball Lights)
Are you following us for much more inspiration?
IG: @cottonballlights_the_original 
FB: Cotton Ball Lights The Original 
And also check out our Pinterest!